Healthy Climate Monitor
A grip on a healthy indoor climate - Available for everyone - Can be rented from 2 weeks
---
What is the Healthy Climate Monitor?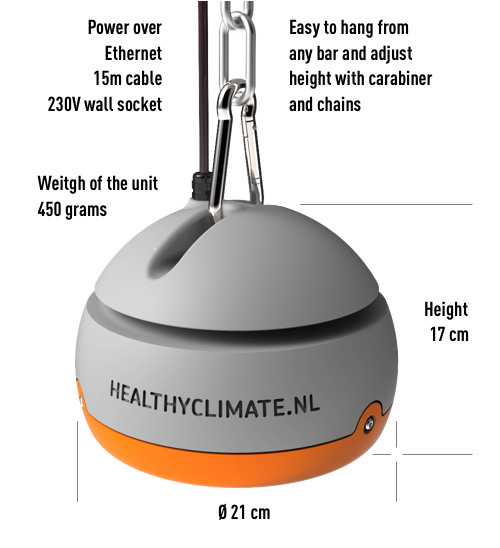 You can contribute to our impact!
The Healthy Climate Monitor is the most easy-to-use comprehensive climate monitor that exists. It easily performs continuous climate measurements in farms. In addition, the system also takes pictures of the animals so that you can see exactly how they respond to the climate. Even if you are not there yourself.
By improving their lives, we also have impact on our health and our planet. 
Just plug and play, is that all?
Yes, you hang and position it and plug in the power cord. It's that simple. No annoying installations or network connections. The robust measuring system is specially made for farm environments and transmits the data via an internal GSM connection.
Hang it with a chain and carabiner over a feed line, beam, or click it to an existing hook or eye in the stable. And with the 15 meter cable, there is always a power outlet nearby. It couldn't be easier!
24/7 access to your data
You get direct access to your data via the web portal and you can also use it as an app on your phone. This gives you insight into the data and photos day and night. You can rent the Healthy Climate Monitor for any desired period. View the costs here. After the rental period, the data remains visible for 2 months and you can, for example, export it to Excel or delete it. All data remains yours and you decide what happens to it.
Service/Assistence
We will help you starting up, using the app, analysing your pictures and sensor-data. Tell us what you want achieve: Our veterinarian will contact you in the first few days/weeks to advise you on creating an optimal environment for your animals.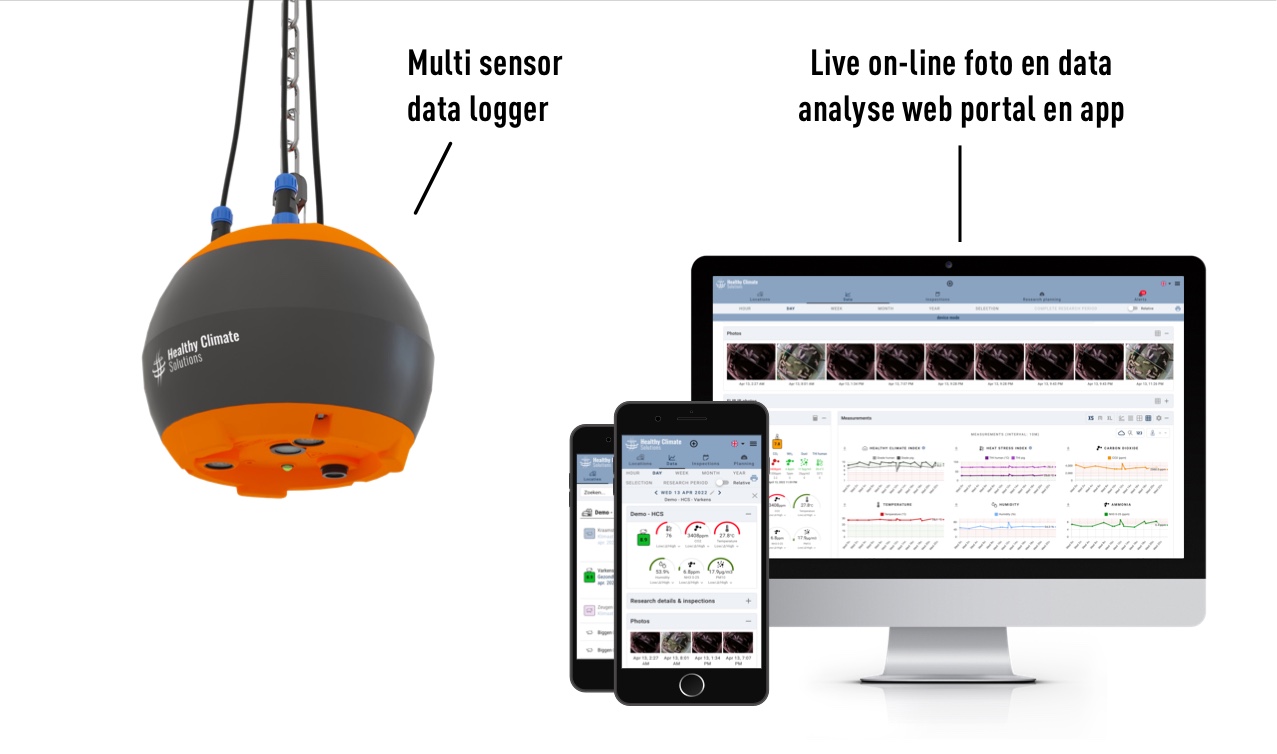 Calculate the rent
A measurement of the sensors and image every minute
| | | |
| --- | --- | --- |
| Surroundings | Objects | Gases |
| • 170 degrees HD photo and video | • Motion on screen as a measurement value | • CO 2 |
| • Sound pressure and spectrum analysis | • Night shots with infrared | • NH 3 (ammonia) |
| • Temperature | • PM 2.5 particles | • CH 4 (methane) |
| • Relative air humidity | • PM 10 particles | • H 2 S (fertilizer gas) |
| • Light intensity | • Thermal imaging (FLIR) | • Extra as required |
| • Air pressure |   |   |

Healthy indoor climate for humans and animals
The healthy climate monitor is a measuring instrument for livestock farmers, veterinarians, climate specialists, feed advisers, researchers: basically everyone who is curious. Multiple sensors in combination with static or moving images provide direct insight into climate and behavior.
Immediately see the effect of adjustments
If you make adjustments to your farm, or climate installation, you can immediately see what the effects are. And you can see through the images of the behavior of your animals how they react to the adjustments. There is no faster and better feedback!
For more information contact us via the information below.